Posted by Anastasia on 24th Apr 2021
CBD AND SKINCARE
WHAT IS SKINCARE?
Skincare consists of a multitude of practices that sustain and support healthy skin's elasticity and texture, improves its overall appearance, and relieve certain skin conditions, like eczema or acne. These daily practices can provide nutrients for the skin, prevent excessive skin exposure, and appropriate the usage of emollients, one of the ingredients in moisturizers for protecting, moisturizing, and lubricating the skin.
CBD AND SKINCARE: WHAT ARE THE DIFFERENT KINDS OF SKIN TYPES?
NORMAL SKIN TYPE:
Normal skin is neither too oily or too dry. Sebum production is balanced and blood circulation is optimal. No extensive treatment is required.
Balanced oil production: Due to the healthy proportion of oil and water, normal skin feels even and balanced. Maintenance of the skin is simple and easy by using the correct products recommended for your skin type. Lotions are an excellent choice due to their primarily water-based content. They are normally consistent with 70% or more water, which makes them lighter and less oily than creams or butters. For this reason, most normal skin types only need to use lotions to maintain moisture.

Smooth texture: Skin is not too oily or too dry, it doesn't require many products to maintain this skin type. It typically means your skin is hydrated enough.

Barely visible pores: Pores are typically small and not inflamed unless you neglect your skincare routine, forget to remove make-up, not apply sunscreen, or hormonal fluctuations (such as your period).

Minimal sensitivity: Skin shows no oiliness, redness, or flakiness, it is not easily reactive to small changes, such as rubbing of the skin.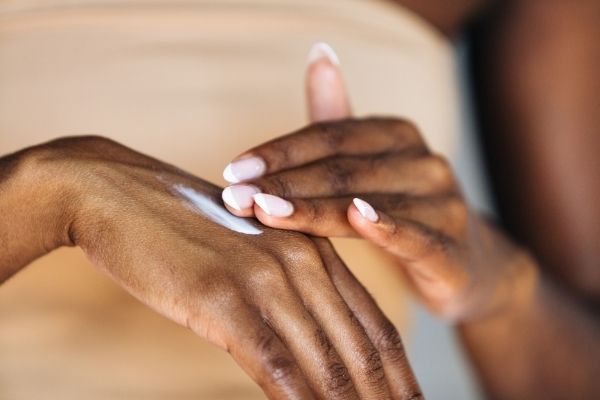 The hands are the most used part of the body and daily moisturizing keeps the hands soft and smooth
DRY SKIN TYPE:
Dry skin has a flaky, rough texture and often feels tight, which can cause your skin to crack, peel, and become itchy, irritated, and inflamed. Dehydrated skin becomes rough and scaly, especially on the back of your hands, arms, and legs.
Almost invisible pores: Dried skin has flakiness and sensitive, easily inflamed red patches or spots. The pores become hidden underneath the flakiness and redness.

Dull, rough complexion: Sebaceous glands overproduce oil for hydration, and therefore may result in a greasy, oily forehead and nose bridge with dry cheeks.

Red patches: Severely dry skin may produce red patches of inflamed, itchy skin, which may even cause eczema.

Less elasticity, dry skin's ability to stretch and snap back to its original form is lost (this is known as elastosis) and may cause the skin to look saggy, cracked, or leathery, making more visible lines appear around the mouth or the eyes.

Recommendation: Observe the facial products you use (facewash, sunscreen, make-up) as dry-combination skin can easily react to products by making naturally oil skin become dry and dull. Experiment using different products and pay attention to your skin's reaction to more organic or natural preservatives with no added fragrances and less harmful, synthetic chemicals.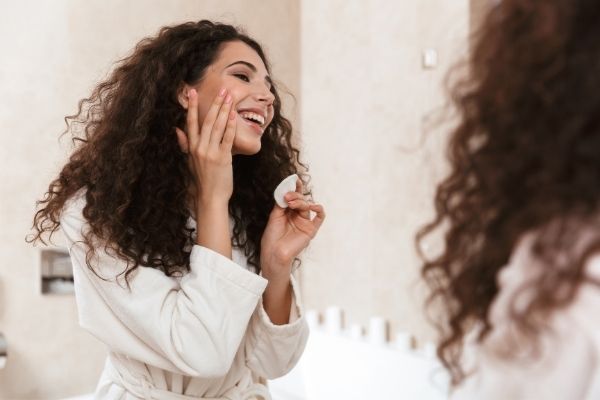 Face care products are different than normal skincare because facial skin is more delicate
OILY SKIN TYPE:
Oily skin is characterized by a greasy appearance and it is prone to acne breakouts as a result of excess sebum production.
Excessive oil production: Beneath the pores are sebaceous glands that produce natural oils called sebum. Genetics, environment, puberty, hormonal fluctuations or imbalances, and lifestyle factors, such as stress, contribute to the overproduction of sebum oil.

Shiny, thick complexion: Overproduction of sebum oil causes the skin to develop a layer of triglycerides and fatty acids (57%), wax esters (26%), squalene (12%), and cholesterol (4.5%), which is why the surface of your skin becomes consistently thickened by the oily sebum.

Prone to breakouts, blackheads, and other blemishes: When sebum mixes with sweat and dead skins, they clog the pores and cause inflammation, which causes acne breakouts.

Recommendation: A natural way of combating oily skin in the gentlest way possible is exfoliating your skin twice a week, use soaps, facial cleansers, or exfoliants with primarily non-comedogenic, natural-based ingredients, and find moisturizers and serums that will keep your skin hydrated, because the excess amount of oil can dehydrate your skin. Stay away from butter-based creams as they will clog and suffocate your pores.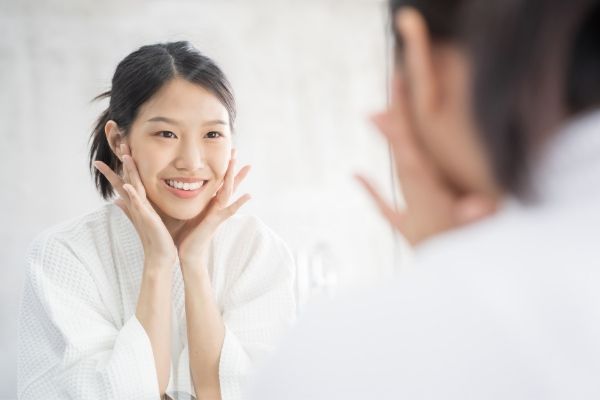 Finding the right products and routine for your skin type is key
SENSITIVE SKIN TYPE:
Sensitive skin is the most prone to inflammation and adverse reactions. The skin does not respond well to strong chemicals, dyes, and fragrances infused in certain products.
Reactive Skin: This is typically triggered by soaps, detergents, and skincare products containing artificial fragrances and perfumes. The skin may develop redness, stinging, burning, itching, and discomfort after the skin comes into contact with these particular ingredients.

Dryness: Skin may develop dandruff. If picked at or aggressively rubbed while peeling, it can leave raw, painful patches of skin. This creates a risk for infection and even scarring.

Recommendation: Figure out what kind of products and ingredients trigger negative reactions. Test them on a tiny part of your skin, and if immediately you notice major discomfort or pain within the first few minutes, wash off immediately and avoid using similar products or ingredients.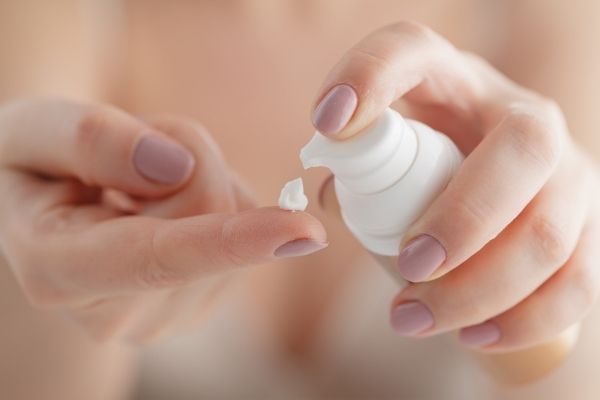 Daily moisturizing of the skin keeps it soft and resilient
CBD AND SKINCARE: WHAT ARE THE DIFFERENCES BETWEEN BODY BUTTERS, CREAMS, AND LOTIONS, AND HOW DO THEY AFFECT YOUR SKIN?
Body lotions are primarily 70-80% water-based with a bit of oils. The lightweight texture of lotion is most ideal for areas like the stomach, arms, and thighs. However, lotions often do not nourish the thickest parts of skin enough. The application is the thinnest and easiest to apply, but they do not penetrate the top skin layer for intensive care on very dry skin.
Body creams are thicker than lotions, but less thicker than butters, and the water to cream to oil ratio is often even and balanced. They have the basic ingredients like body butters, but they have added on water-based ingredients like aloe vera or hydrosol, and they are usually whipped to sustain a smoother texture. They may or may not have butters or solid fats in the cream, depending on the manufacturer.
Body butters are the thickest out of all body creams, with the strongest scent and likeability they will last longer on the skin than lotions and creams. However, they can leave an oil residue on your skin and clothes, and since they do not usually contain water or moisture, they do not allow your pores to breathe. Being used as an overnight skin treatment every once in a while is most ideal for this kind of texture and absorbency over everyday application.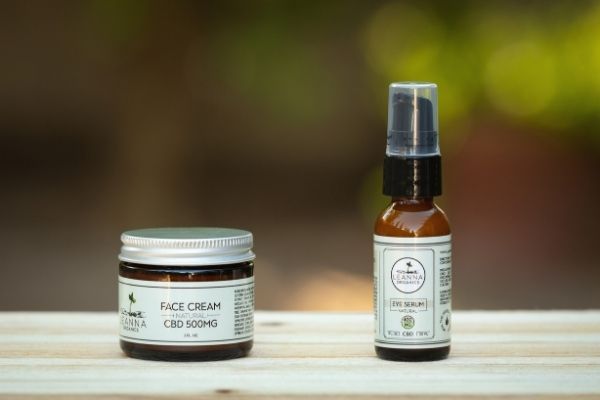 Leanna Organics' CBD face cream and CBD eye serum are both all-natural and infused with a generous measurement of hemp-derived CBD
CBD AND SKINCARE: WHAT MAKES LEANNA ORGANICS' BODY CREAM DIFFERENT FROM OTHER LOTIONS, OILS, AND SKIN PRODUCTS?
Leanna Organics body cream is a combination of 50% water, 15% butters, and 35% organic oils. While being a balanced combination between water, butter, and oils, the CBD in the body creams assists with discomfort and malnourishment of the skin. The endocannabinoid system (ECS) is a balancing system of organs of the body and the skin is covered in CB2 receptors. The extra ingredient, CBD, binds to the receptors and provides extra relief for skin conditions like itchiness and redness. Currently, Leanna Organics has CBD body creams with scents like (Mango / Red Rose / Pineapple Deluxe / Chocolate Coffee/ Natural (Non-Scented), and non-CBD body cream.
This blog was written by @xirtemptest
.
.
.
CBD is a mild, non-intoxicating, and non-habit-forming remedy that comes from nature. It gently, but effectively decreases nervousness and discomfort, also since the skin is covered in CBD receptors it can be rubbed directly onto the skin to promote softness and resilience. Discover how CBD can assist you on your path to happiness and wellness!
.
ARTICLES ABOUT CBD:
What is the difference between CBD versus THC?
Full-spectrum CBD versus CBD isolate